---
ATTENTION: Entrepreneurs and business owners...
"How To Utilize The Power of Online Marketing In Your Business So You Can Gain More Customers And Build Raving Fans..."
Whatever Business You're In, You Too Can Harness The Power Of Online Marketing To Crush Your Competition...
---
Name: Innovative Online Solutions
Date: July 2015
Are you still not harnessing the power of online marketing?
Want to reach thousands of new customers and fans?
Well, read on...
As a business entrepreneur there are numerous ways to increase your sales and better market yourself and your abilities.
One of the most common, and most profitable, ways to increase your network is through online marketing.
Why Online Marketing?
Online marketing is a must for anyone who owns their own business or has a product or an idea they're trying to sell.
Twenty years ago online marketing wouldn't have gotten you very far, but now the internet is the quickest, and most productive, way to get your idea out there into the world.
But how do you get started?
How do you start driving customers to your website?
How do you utilize the power of high traffic sites like Facebook and YouTube?
I've written a special guide to give you an introduction to online marketing and several proven ways to promote your business...
Introducing...Promotion Tactics
Having a website is one thing, but promoting it is another.

Here's what you'll discover in the Promote Tactics guide:
How to take advantage of email marketing no matter what business you're in.

What are autoresponder services and how can you benefit from it?

The power of a blog and website to promote your business.

The do's and don'ts of blogging.

How to utilize social media marketing to gain a loyal following.

An introduction to search engine optimization and how it works.

The importance of using target keywords to help your site rank better.

What to blog about and the different styles of blogging you can use when blog posting.

...and much, much more!
How Can I Use This Powerful Guide Right Now?
You can own Promotion Tactics today for a mere $4.
That is a truly incredible value, especially considering the significant difference it'll make to your success.

Did I mention this eBook is only $4? It's definitely a point worth repeating. You will be hard-pressed to find a more valuable resources.
To make this a real value I am going to add 2 Special Bonuses to increase your marketing efforts:
Bonus #1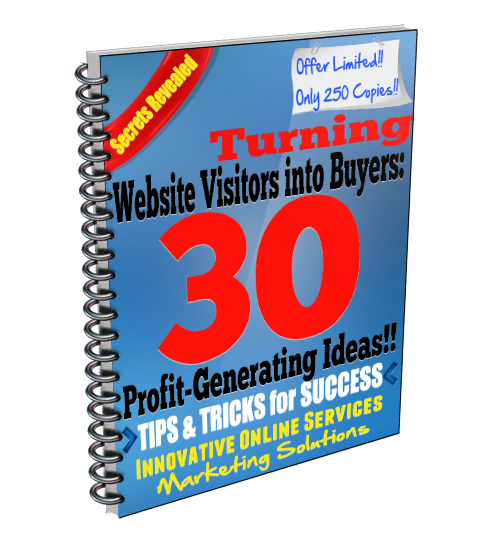 You'll discover...
Why using "buy" or "purchase" on your website could be costing you sales!

What to avoid in your ad copy so that your prospects believe you. If they don't believe you, they don't trust you. And that means NO sales!

The 10 words that should always be in your sales copy. These simple words will have your prospects clicking on the order button!

2 things you can say to complaining customers to turn their frowns upside down and continue to spend money with you in the future.

How to get your customers excited about your business so they'll tell their friends!
$14 Value......FREE!!


Bonus #2

A Special Exclusive Report!!

You'll Learn How Business Web Sites are:

Always Changing

Used to Build Relationships

$7 Value......FREE!!



---
---
I'm delighted to have the chance to share this powerful guide (and its bonuses) with you, and I know you'll be very happy with the results.

Again, you will receive the comprehensive and valuable insights you need to become a successful entrepreneur for only $4.
Please take ownership of this valuable package TODAY!
---
Get Instant Access Right Now!
Yes! I want instant access to Promotion Tactics $17 Value
Including
Bonus #1 "Turning Customers into Buyers: 30 Profit – Generating Ideas"
$14 Value
Bonus #2 "A Special Exclusive Report"
$7 Value
$38.00 Value

Only $4
To Your Success,

Innovative Online Services
P.S. - This is the ultimate package to becoming a successful online entrepreneur. Enroll and get your copy today!
Disclaimer
This course has been written for information purposes only. Every effort has been made to make this course as complete and accurate as possible. However, there may be mistakes in typography or content. Also, this course provides information only up to the publishing date. Therefore, this course should be used as a guide - not as the ultimate source. The purpose of this course is to educate. The author and the publisher does not warrant that the information contained in this course is fully complete and shall not be responsible for any errors or omissions. The author and publisher shall have neither liability nor responsibility to any person or entity with respect to any loss or damage caused or alleged to be caused directly or indirectly by this course.
---